As specialists in the design, manufacture, and commissioning of pulverizing systems for fine and semi-fine grinding, Bradley Pulverizer has equipment operating across six continents in a variety of industries and applications.
Producers of ores, coal, clays, cement, fertilizers and many other minerals rely on Bradley mills for uninterrupted heavy tonnage production of materials which meet the most demanding specifications for particle size distribution.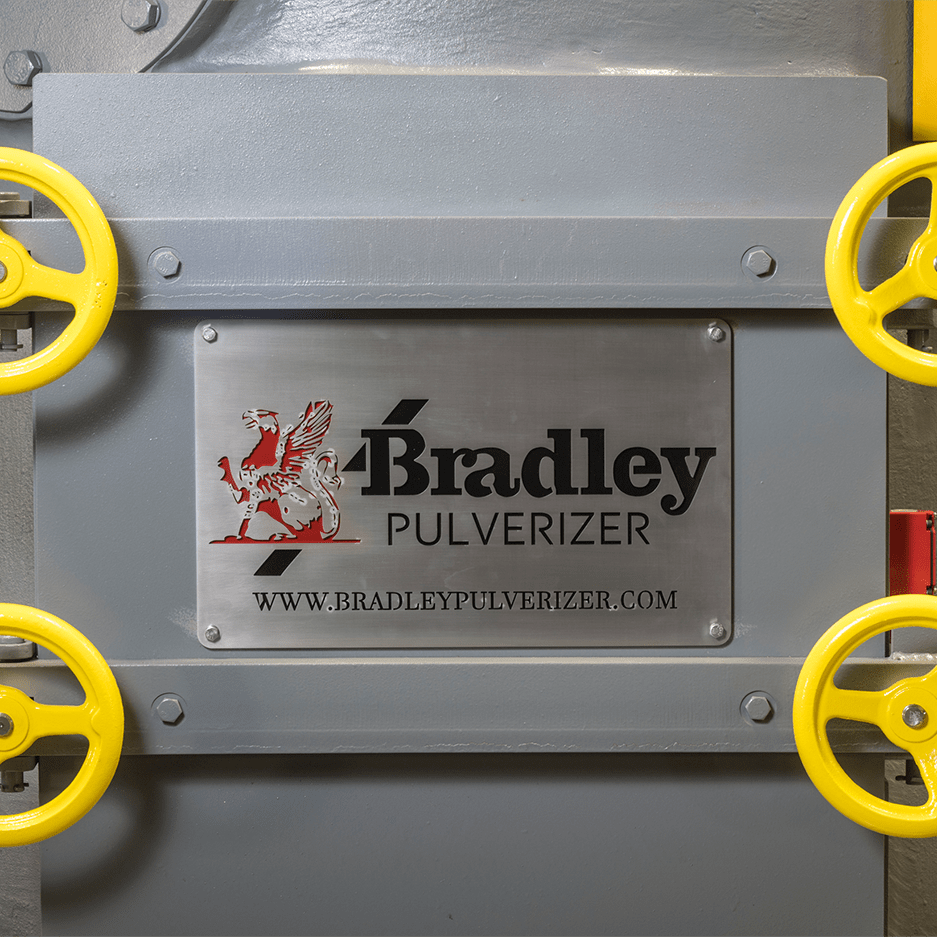 Since 1886, Bradley pendulum roller mills have been recognized as the best in class pulverizing solution for the mineral processing industry.  Our mill systems range in output from 1 to 150 tons per hour with adjustable and uniform particle sizes from 50% passing 150 microns to 100% passing 30 microns – all in a single pass.  Our experienced engineers can design a custom mill system solution configured to meet your specific application needs.
Featured Application: Fertilizer
Material
Application
Outcomes
Bradley Equipment
Phosphate rock for phosphoric acid

Traditional Dihydrate process

---

Modern Hemihydrate process

60% passing 150 micron

---

2mm

Airswept Mill
Phosphate rock for superphosphates
Sedimantary rocks
90% passing 150 micron typical – may also be expressed as 80-85 pssing
75 micron for some appliactions
Airswept Mill
Phosphate rock for superphosphates
Igneous Rocks
90% passing 53 micron typical
Airswept Mill
Phosphate rock for direct application as fertilizer
Use reactive rock like Gafsa and acid soils
90% passing 53 micron
Airswept Mill
Limestone for C.A.N. fertilizer (calcium – ammonium – nitrate)
 
90% passing 40 microns
Airswept Mill
Limestone for direct application to soil
Used to reduce soil acidity
50% passing 150 micron
Screen Mill
Featured Application: Limestone and Dolomite Quarries
Material
Application
Outcomes
Bradley Equipment
Agricultural Limestone
Direct soil application to reduce acidity
50% passing 150 micron
Screen Mill
Filler for mastic asphalt
Mastic blocks for flexiable sealing joints in roads and bridges
50% passing 75 micron
Screen Mill
Mine dust
Prevents dust explosions in coal mines. Sone can be waterproofed, by adding checmicals to mill
70% passing 63 micron
Airswept Mill
Filler for asphalt
For coated roadstone
85% passing 75 micron
Airswept Mill
Fillers for rubber and plastic
Example – carpet backing
90-95% passing 75 micron
Airswept Mill
Limestone powder for steel and iron works
Usually used in sinter plant for pellet production
85% passing 75 micron
Airswept Mill
Unburnt cores from limekiln
 
50% passing 150 micron
Screen Mill
Quiklime from limekiln
Used to make lime/sand bricks
90% passing 90 micron
Airswept Mill
Coarse sorbent
For Sox removal in FBC Boilers
70% passing 300 micron / 15% passing 45 micron
Airswept Mill
Fine sorbent
For Sox removal in flue gas catalysed boilers
90% passing 90 micron
Airswept Mill
Limestone for C.A.N. fertilizer (calcium – ammonium – nitrate)
Used to reduce soil acidity
90% passing 40 microns
Airswept Mill
White pigment
For paint manufacturing
100% passing 44microns
Airswept Mill
Limestone for oil well drilling mud
Need to dry in mill
97% passing 75 microns
Airswept Mill
Featured Application: Mining Industries
Material
Application
Outcomes
Bradley Equipment
Gold Ore
Aid in recovery of fine metals and minerals
Fineness varies
Screen Mill
Diamond Ore
Aid in recovery of fine metals and minerals
Fineness varies
Screen Mill
Copper Ore
Aid in recovery of fine metals and minerals
Fineness varies
Screen Mill
Zinc Ore
Aid in recovery of fine metals and minerals
Fineness varies
Screen Mill
Chrome Ore
For use in metal processing
Fineness varies
Screen Mill
Manganese Ore
For use in metal processing
Fineness varies
Screen Mill
Coal
For pulverized fuel
80-85% passing 75 micron
Airswept Mill
Limestone or Shale

For coal mines dust production

---

Stone can be water-proofed by adding chemicals to the Mill

70% passing 63 micron
Airswept Mill
Featured Application: Paint Manufacturing
Material
Application
Outcomes
Bradley Equipment
Titanium Dioxide
For making white paint
99.99% passing 53 micron pre grind for micronising
Airswept Mill
Plumbago, Zinc Oxide, Burnt Lime, Calcium Carbonate
White pigments for paints
Fineness varies
Airswept Mill
Metal oxides – Iron Oxide, Cobalt Ore, etc.
For paint color
Fineness varies
Airswept Mill
Featured Application: Cement Industry
Material
Application
Outcomes
Bradley Equipment
Cement raw materials
Usually need to dry in mill
80-85% passing 75 micron
Airswept Mill
Pre-grinding cement raw materials
For feed to ball or rod mill to raise output of existing plants
50% passing 75 micron
Screen Mill
Finish grinding of cement clinker

Ordinary Portland cement (O.P.C.)

---

Rapid hardening cement (R.H.C.)

80-85% passing 75 micron

---

90-95% passing 75 micron

Airswept Mill
Pre-grinding of cement clinker
For feed to ball or rod mill to raise output of existing plants
40-50% passing 74micron
Screen Mill
Coal
For process heating
85% passing 75 micron
Airswept Mill
Fly Ash
Pozzolans
70-95% passing 45 micron
Airswept Mill
Featured Application: Oil Industry
Material
Application
Outcomes
Bradley Equipment
Barytes
For drilling mud, usually need to dry in Mill
97% passing 75 micron
Airswept Mill
Bentonites
For drilling mud, usually need to dry in Mill
92% passing 75 micron
Screen Mill/Airswept Mill
Petroleum Coke
 
85% passing 75 micron
Airswept Mill
Limestone
For drilling mud, usually need to dry in Mill
97% passing 75 microns
Airswept Mill
Featured Application: Marble Quarrying and Processing
Material
Application
Outcomes
Bradley Equipment
Marble
For facing ceramic tiles
All passing 2 mm
Screen Mill
Marble waste
For filler
80-90% passing 75 micron
Airswept Mill
Featured Application: Glass and Ceramics Industries
Material
Application
Outcomes
Bradley Equipment
Borate minerals – Colemanite, Ulexite, etc.
For borosilicate glass production and fiberglass production
99% passing 250 micron
Airswept Mill
Limestone (pure)
 
95% passing 2.4mm
Screen Mill
Chamote, Magnesite, etc.
For ceramics
Fineness varies
Airswept Mill
Kaolin (china clay)
For pottery manufacturing
Fineness varies
Airswept Mill
Marble
For facing ceramic tiles
All passing 2mm
Screen Mill
Featured Application: Miscellaneous
Material
Application
Outcomes
Bradley Equipment
Gypsum
For wallboard, etc.
95% through 150 micron
Airswept Mill
Anhydrite
For chemical industry
80% through 150 micron
Airswept Mill
Activated Carbon
For chemical industry
60-95% passing 75 micron
Airswept Mill
Sulphur
For pesticides and fungicides
99% passing 45 micron
Airswept Mill
Talc
For commerce and industry
99% passing 45 micron
Airswept Mill
Fluorspar
For chemical industry
Finesness varies
Airswept Mill