Part 2 of a 5-part blog series: "The Importance of Phosphate Milling"
Bradley Pulverizer's Ian Hancock, VP of Sales & Operations, discusses the importance of a holistic understanding of the phosphate milling process to ensure maximum plant uptime, the highest process efficiencies and profitability. Click Here to download the complete article in pdf format as published in Fertilizer International July|August 2021, issue 503, pp. 49-52.
Simply stated, the role of the mill in fertilizer processing is to crush/grind/pulverize the raw phosphate rock. Typically, the aim is to reduce quarter inch-size crushed rock into fine particles to meet the required specification for downstream processing or acidulation.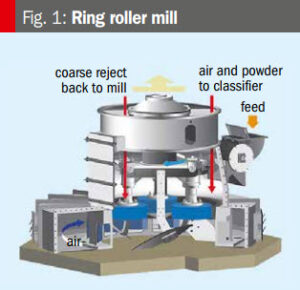 The degree of fineness and what particle size is acceptable varies significantly according to the production process and type of rock being used. This, in turn, influences mill selection. For an igneous phosphate rock, for example, single superphosphate (SSP) production requires a feed with 90 percent passing 53 microns. This falls to 90 percent passing 75 microns when sedimentary phosphate is consumed. When it comes to phosphoric acid production, 90 percent passing 150 microns is acceptable for the widely-used dihydrate (DH) process; whereas much coarser feed is acceptable for the hemihydrate (HH) process, with 90 percent needing to pass two millimeters instead.
Mill selection is primarily based on an ability to continuously crush hard, friable phosphate rock to specification. This needs to be carried out as efficiently as possible, given that this will dictate downstream yield rates and, ultimately, profits. The three main mill options for phosphate ore are:
read more