Part 3 of a 5-part blog series: "The Bradley Broadfield superphosphate process"
The Broadfield process has remained a mainstay of the global phosphate industry since its introduction in the 1930s. In Part 1, Ian Hancock, Vice President Sales & Operations, Bradley Pulverizer, provides an introduction to the Bradley Superphosphate process, and in Part 2 we explore the origins of superphosphate manufacturing .  Click Here to download the complete article in pdf format as published by BCInsight Ltd in Fertilizer International Sept|Oct 2022, issue 510, pp. 31-35.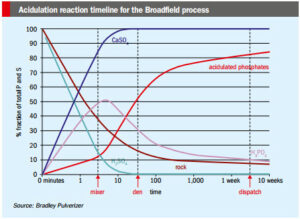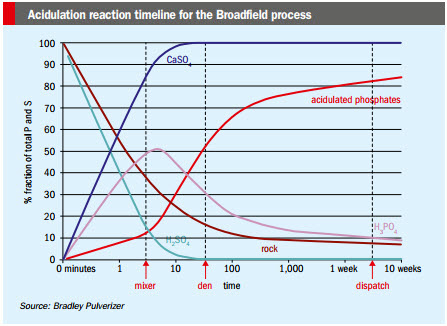 Single Superphosphate (SSP) is made by reacting non-soluble fluorapatite (the mineral present within phosphate rock) with sulphuric acid to produce soluble monocalcium phosphate and calcium sulphate. Gaseous by-products from the reaction include  and  (released from associated calcium carbonate in the rock). The overall chemical reaction is summarized in equation 1 below.
2Ca5(PO4)3F+6H2SO4+3H2O → 6CaSO4+3Ca(H2PO4)2∙H2O+CaF2
read more