Static Inverted Cone and Double Cone Separators

Static Separators to Meet Your Application Demands
Bradley Pulverizer offers several types of air separators to allow for optimum equipment selection to meet particular demands of various grinding applications. Static classifiers are designed to be rugged and simple, without rotating parts or power consumption. With options for both coarse and fine grinding applications, static separators can be outfitted to any airswept mill and are designed to last for many years of service.
Inverted Cone Separator
The Bradley Inverted Cone Separator is designed especially for coarse grinding of materials to particle sizes of 300 micron up to 1 millimeter with a 95% or better passing rate. The minimal pressure drop design is a critical benefit of this technology as it delivers high production rates.
The offset entry of incoming air and the directional nature of the vanes in the mill's base casting cause the air stream to spiral upward through the mill carrying entrained ground material with it. This spiral action imparts centrifugal force on the larger particles pushing them to the outside. As the large particles come in contact with the side of the separator body they lose their upward momentum and fall back into the grinding chamber to be reground. A natural separation takes place which is dependent upon residence time. The adjustable height of the Inverted Cone inside the Separator determines the amount of residence ( spiral ) time. Therefore, the coarsest product will be produced when the Inverted Cone is lower and finer ground products are produced as the Inverted Cone is raised.
Typical Applications
Phosphoric acid processing – meets specification Prayon screens (industry standard) and yields a high production rate at mills.
Desulfurization of Limestone power plants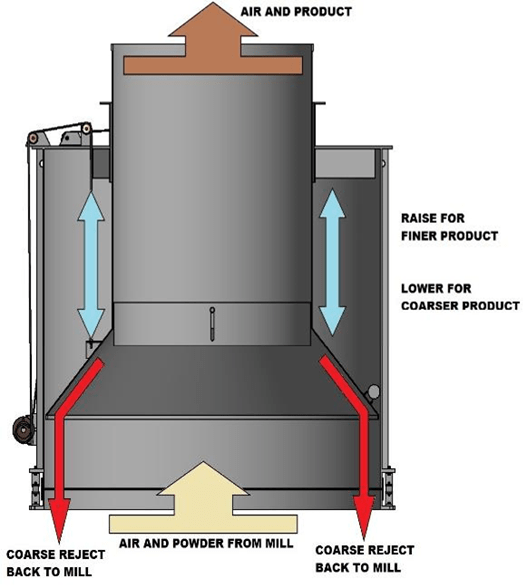 Double Cone Separator
Traditionally used with most forms of fine grinding, the double cone separator is especially effective with very abrasive or sticky materials. Its durable design withstands harsh processing environments.
The inner cone of the Double Cone Separator acts as the cone of a cyclone. Varying the degree of the internal vortex by physically changing the angle of the vanes, the amount of fines that bypasses the cyclone can be controlled. Reducing the angle of the vanes causes more spin on the air causing an increase in the centrifugal force, which increases residence time to discharge material back to the grinding chamber.   This allows for only the finer particles to pass through the Double Cone Separator, which results in a fine ground end product.
Typical Applications
Ceramics
Catalytic converters
Explosion prone materials, such as sulfur