BRADLEY PULVERIZER LAUNCHES NEW WEBSITE

Company Expands Internet Presence and USA Infrastructure
Allentown, Pennsylvania, December 16th, 2020 – Bradley Pulverizer is pleased to announce the launch of a newly redesigned website and social media presence. Since the acquisition of Bradley Pulverizer in January 2020, the company has developed a new digital strategy to support international operations and an expansion of its US sales force and engineering capabilities.
With over 130 years of serving the minerals industry, Bradley provides access to its deep technical and application expertise through its new digital offerings. As specialists in the design, manufacture, and commissioning of pulverizing and classifying systems, the company is committed to providing industry-relevant content easily accessible through its new website.
The new user-friendly website serves as the gateway to product information, videos, news, and solutions related to the company's line of pendulum roller mills, classifiers, and services. The new website has a clean and uncluttered mobile responsive design with new content and improved functionality. Additional new features include a newsletter and blog showcasing grinding and classifying applications and solutions.
Bradley Pulverizer's new website:
https://www.bradleypulverizer.com/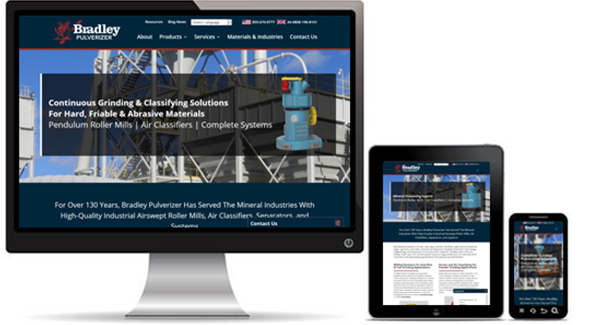 Bradley Pulverizer's new website is completely redesigned and updated with a new look, the latest product and solution information, resources, services, and photography.
Curt Snyder, President, and CEO of Bradley Pulverizer, comments, "The new website is the first step in our digital marketing strategy. Our goals are to promote Bradley's lines of pendulum roller mills and classifiers and be a destination for our customers to learn more about the products and services Bradley has to offer. Having a strong digital presence for continuous grinding and classifying solutions provides the industry with a valuable resource. Our newly expanded engineering and sales team are also ready to partner with companies looking for innovative solutions to maximize pulverizing and classifying productivity."
In addition to the website, the company has expanded its internet presence to feature several Social Media sites:
Facebook: https://www.facebook.com/BradleyPulverizer/
LinkedIn: https://www.linkedin.com/company/bradley-pulverizer-company/
Twitter: https://twitter.com/BradleyPulvrizr
YouTube: https://www.youtube.com/channel/UCz0gEN1xwtXaasNmy3r1OjQ/
About the company:
Founded in 1886, Bradley Pulverizer designs, manufactures, and supplies air classifying and pulverizing systems for fine and semi-fine grinding of hard, friable, abrasive materials. Bradley pendulum roller mills are widely relied upon for uninterrupted heavy tonnage production of materials that meet the most demanding particle-size distribution specifications.
With a focus on size reduction and classification, Bradley equipment is ideal for many mineral processing applications, including grinding of coarse limestone, fine coal for pulverized fuel, superfine marble for fillers, phosphate rock, bentonite, and limestone. Bradley produces reliable, low maintenance, energy-efficient pulverizing, and classification systems that are available worldwide.
USA Office
123 South Third Street
PO Box 1318
Allentown, PA 18105
UK Office
15 Kennett Rd
Dartford
Kent – DA1 4QN
Interviews available upon request
Contact: Curt Snyder
610-434-5191
[email protected]
#####