Part 2 of a 5-part blog series: "The Importance of Phosphate Milling"

Bradley Pulverizer's Ian Hancock, VP of Sales & Operations, discusses the importance of a holistic understanding of the phosphate milling process to ensure maximum plant uptime, the highest process efficiencies and profitability. Click Here to download the complete article in pdf format as published by BCInsight Ltd in Fertilizer International July|August 2021, issue 503, pp. 49-52.
Simply stated, the role of the mill in fertilizer processing is to crush/grind/pulverize the raw phosphate rock.  Typically, the aim is to reduce quarter inch-size crushed rock into fine particles to meet the required specification for downstream processing or acidulation.
The degree of fineness and what particle size is acceptable varies significantly according to the production process and type of rock being used.  This, in turn, influences mill selection.  For an igneous phosphate rock, for example, single superphosphate (SSP) production requires a feed with 90 percent passing 53 microns.  This falls to 90 percent passing 75 microns when sedimentary phosphate is consumed.  When it comes to phosphoric acid production, 90 percent passing 150 microns is acceptable for the widely-used dihydrate (DH) process; whereas much coarser feed is acceptable for the hemihydrate (HH) process, with 90 percent needing to pass two millimeters instead.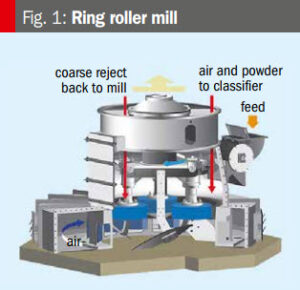 Mill selection is primarily based on an ability to continuously crush hard, friable phosphate rock to specification.  This needs to be carried out as efficiently as possible, given that this will dictate downstream yield rates and, ultimately, profits.  The three main mill options for phosphate ore are:
Ring-roller mills: Vertical rollers rotate inside a fixed horizontal ring (Figure 1). Material fed between the rollers and the ring is ground to powder.
Ball mills: A horizontal rotating cylinder contains a charge of steel balls. These balls tumble as the mill turns so that material caught between the balls is ground to powder.
Table-roller mills: A horizontal table rotates with spring-loaded rollers mounted above. Material fed into the center of the table passes underneath the rollers and is ground to powder.
Most phosphate processors choose airswept milling systems due to their ability to remove fine particles from the grinding zone.  Due to the cushioning effect from newly introduced feed, this allows the grinding action to be concentrated on the large oversize particles.  This results in higher yields and, by minimizing overgrinding, lowers energy consumption.
The air circuit is essentially the same for any air swept mill, being designed to maximize their inherent air sweeping effect.  Inevitably, the high airflow needed to ensure all fines are swept from the grinding zone also carries over some oversize particles too.  A classifier or separator is therefore needed to return these to the mill for further processing.  Particles that meet the size specification, meanwhile, are removed from the conveying air by cyclones and bag filters.
Airflow is solely dependent on the milling rate.  This means that similar capital and operating costs apply to every type of mill – making the selection of the correct type of mill a particularly critical factor.
While the mill remains a critical piece of fertilizer manufacturing equipment, it is fundamentally designed to be a reliable and largely unnoticed workhorse when functioning properly.  Its role is to simply provide continuous pulverization.  Generally, there is very little scrutiny beyond its ability to crush to specification while keeping noise levels and power usage within acceptable limits.
However, in fertilizer manufacturing, delivering the end-product downstream at the highest possible yield still requires precision-grinding of phosphate rock upstream.  In practice, this means that mills need the help of classifiers to maximize their efficiency.

Contact Us to discuss your fertilizer milling requirements with us in more detail.
(US) 855-670-8777 | (International) +44 1322-559-106