Part 5 of a 5-part blog series: "The Importance of Phosphate Milling"

Bradley Pulverizer's Ian Hancock, VP of Sales & Operations, discusses the importance of a holistic understanding of the phosphate milling process to ensure maximum plant uptime, the highest process efficiencies and profitability. Click Here to download the complete article in pdf format as published by BCInsight Ltd in Fertilizer International July|August 2021, issue 503, pp. 49-52.
The upstream mill system may seem simple, compared to other systems in a fertilizer manufacturing plant.  Nevertheless, it should still demand equal attention due to the invaluable role it plays in the overall quality, yield and profitability of the end product.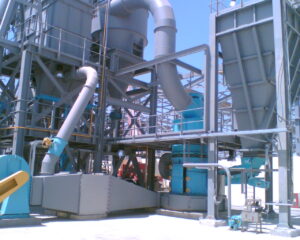 Any fertilizer product which contains Phosphate (P) as a key ingredient will be partly derived from phosphate rock. It should always be remembered, therefore, that it is the mill which is responsible for crushing this hard, friable material to the specified particle size and supplying the feed to all downstream processes.  The mill system often remains the forgotten workhorse in fertilizer processing plants and, consequently, often lacks the credit it deserves in helping transform phosphate ore into fertilizer.
The mill itself – to provide the uninterrupted tonnages required by fertilizer plants at high rates – must be rugged and function reliably in harsh operating environments.  There are inevitable trade-offs and sacrifices, however.  The primary requirement to supply a milled rock feed at high volumes will result in some inefficiency when it comes to meeting particle size specifications.  Fortunately, this can be accounted for and corrected by incorporating equipment – such as an integrated classifier, baghouse, fan and heater – to create a complete mill system.  Milling efficiency can be maximized, and downstream demands for both particle size and volume can be consistently met, by ensuring proper calibration, evaluation and maintenance of the entire mill system.
In our view, a holistic approach to the mill system is always imperative.  This should be applied throughout the mill's operating lifetime, starting from when the initial scope of the mill system is first defined.  Adopting a holistic approach helps operationally by providing a better understanding during the troubleshooting of ongoing problems.  It also directly benefits the bottom line and delivers higher profits by lowering maintenance costs and energy consumption, while also raising production efficiencies and yields.

Contact Us if you have questions or need help selecting the right mill system for your operation.
(US) 855-670-8777 | (International) +44 1322-559-106